Baili has been focusing on the production of high-quality manual razor for 19 years. A manual razor integrating aesthetics and practicality – Baili retro double edge razor.
Haruki Murakami once wrote, "without a Little satisfaction, life is just a dry desert." because of this, more and more people begin to believe that "life needs a sense of ritual".
Shaving is an important ceremony for men in the morning. It is also the best time to examine themselves and be alone.
Compared with the dull electric shaving, manual shaving have more ceremony feeling. Therefore, more and more men have embarked on the road of retro,  and even think that this traditional shaving process is more "ritual" and can bring them physical and mental pleasure.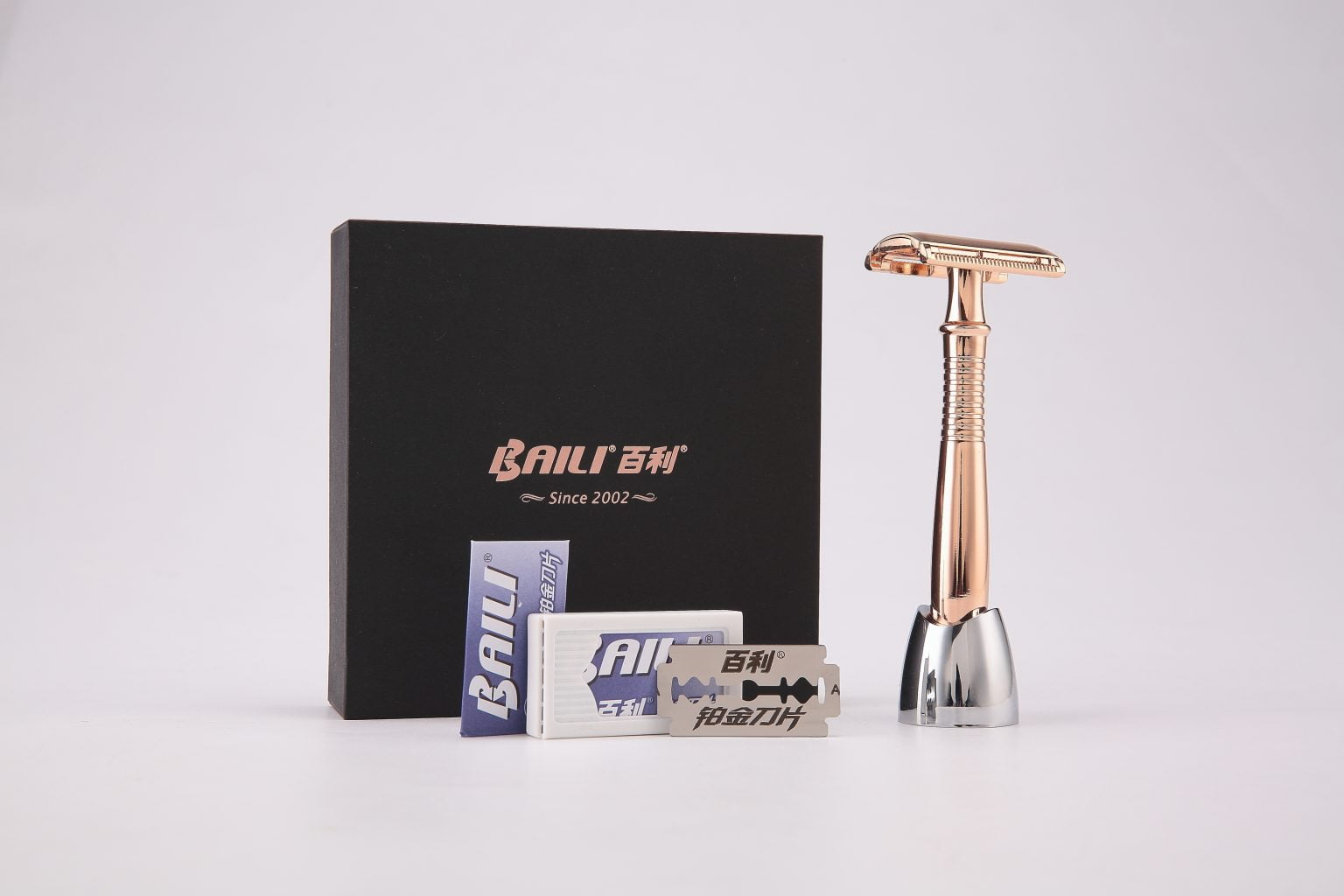 No.1 Vintage Safety Razor
It is made of high-quality alloy, retro modeling design, classic reproduction, appearance has obtained national patent. The extended handle has beautiful lines and is easier to grasp and control. After more than 20 processes such as grinding, polishing and assembly, it is made with ingenuity, with cold light, full texture and strong style. Just like a small and exquisite cold weapon, it is a special weapon for men.
No.2 Double Edge Blades
The Baili blade in the suit adopts imported stainless steel platinum coating and automatic heat treatment process. It is sharp and durable without sawtooth. The beard is easy to be scratched, but it will not cause scratch. The special packing box for the blade is made of ABS engineering plastic. The design has been patented. It is not easy to scratch your fingers when opened from the side. The double-layer design can put new blades and recycle old blades at the same time.
No.3 Shaving Brush
The bristle material is plump skin friendly badger hair, which can produce rich foam and can quickly lock the foam like a sponge. The stable and stable badger hair can also clean the pores of grease and dirt easily. The brush handle is made of resin and metal, full of retro flavor, very compelling and feels good.
No.4 Foaming Bowl
The foaming bowl is made of selected stainless steel, which is very textured. The beautiful shape design makes you have a comfortable grip. It is easy to use force when making bubbles and is not easy to slip.
No.5 storage rack
An elegant storage rack can not only keep the razor and foaming brush clean and prevent pollution. And no matter where it is placed, it can show your elegant taste and make your life more style